WE ARE HOLLAND HELLAS LOGISTICS
Holland Hellas Logistics S.A. delivers state of the art Logistics on Europe Continent. Every week company offers logistic services on all edges of Europe to fulfill the direct and continuous needs of company's customer base. In this way Holland Hellas reaches UK and Spain, Valtic countires and Scandinavia region. Netherlands acts as central node on European Market, in order for the company to co-ordinate the overall logistic activities.
The company co-operates with partners in a permanent way who occupy trucks of advanced technology friendly to the environment (EURO) equipped with trustworthy GPS (Global Positioning System) and GSM (Global Systems of Mobile communications) systems. Via this technology, the customer has the comparative advantage to track in real time, the position of its goods. The warehouse of HHL is equipped with manual and electric palletisers, pickers, hydraulic ramps and packing machines. The warehouse is secured and it is guarded by special trained personnel of a reliable security company and is equipped with state-of-the-art safety systems.
The vision of the company is to become the key partner of each company, in order to comprehend with all customer demands for logistics. The target of HHL is to become the central point of reference in the European logistics market as a consistent and trustful choice for every company. The long experience of its executive team and the flexibility on the provided solutions contribute on this direction.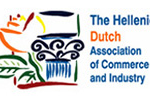 ISO Certification
ISO Certification 9001 / 2008
IFFAG & L
Association of International Freight Forwarders & Logistics Enterprises of Greece
HEDA
The Hellenic Dutch Association of Commerce and Industry
AHK
Deutsch-Griechische Industrie -und Handelskammer